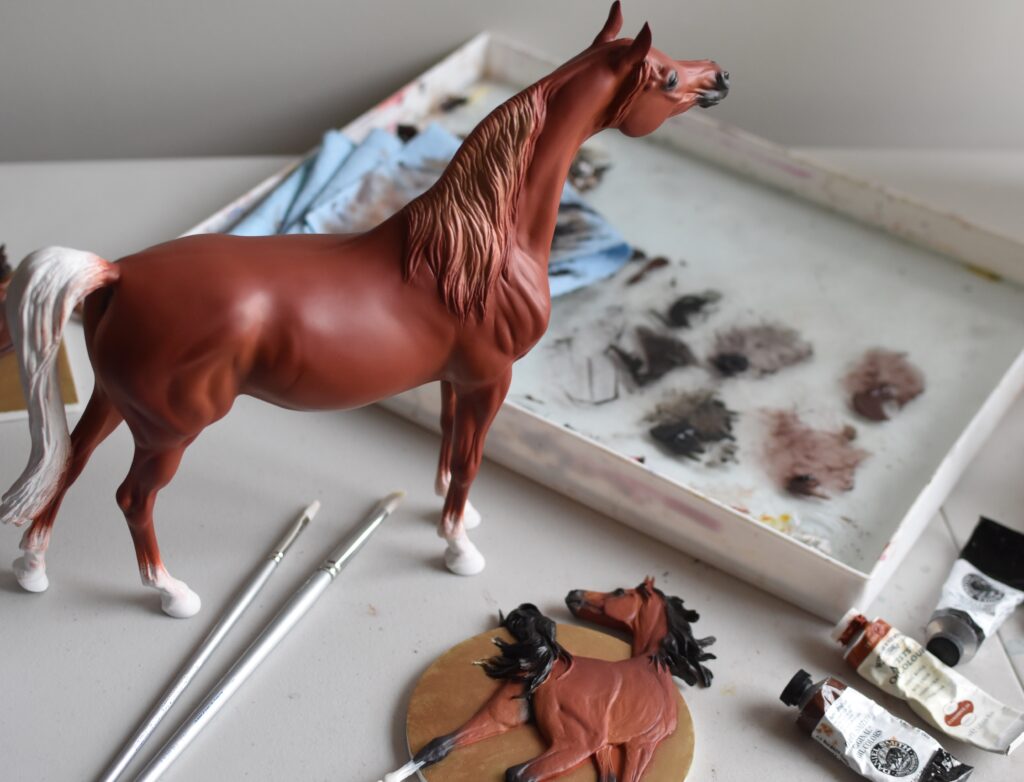 Would you love to learn how to paint your own model horse using oils? I currently offer a Intro to Oil Painting working, suitable for all experience levels! In addition to my intro course, I offer courses on painting dilutes and dapple greys, available to participants who have completed an intro course.
Intro to Oils: Painting bay and chestnut
Join me on Zoom for a live workshop as we learn the basic techniques of painting a model with oils, and delve into color theory especially related to bay and chestnut coats. The workshop is limited to keep the class size small and allow for individual coaching. We will be working together to complete a bay or chestnut coat color of your choice, which will then be ready for your acrylic detailing in your own time.
Cost for 5 week course: $175

Though there are benefits to joining live and being able to ask questions, sessions are always recorded for watching in your own time if you are unable to join live any of the weeks. You can also complete the workshop with rewatches only if necessary
Upon registration, a supply list will be provided. You are welcome to use any equivalent supplies you may already have. Supply cost total estimate: $200, roughly.
Dilutes Workshops
Learn to paint a dilute color of your choice! We cover buckskins, palominos, perlinos, cremellos, duns, grullas, and more! Prerequisite: Bay/Chestnut Intro course.
Dapple Grey Workshops
Learn to paint a dapple grey! We will cover learning how to study a dapple grey pattern to better understand it. We will then learn how to plan out that pattern on a model and build realistic texture and detail. Prerequisite: Bay/Chestnut Intro course.
---
Upcoming Workshops
Bay/Chestnut Intro:
Wednesdays, May 3 – May 31, 8:00-10:00pm EST – SOLD OUT
---
Join my mailing list to receive first notification of available workshops!